Hope In A Bag - Newly Diagnosed Patient Resources
Hope In A Bag is a must-have resource for all newly diagnosed stomach cancer patients.  And it's entirely free.
It includes invaluable guidance designed to help patients and caregivers navigate the many areas of stomach cancer treatment.
And that includes My Companion Guidebook.  It helps you stay organized and keep track of everything in one place.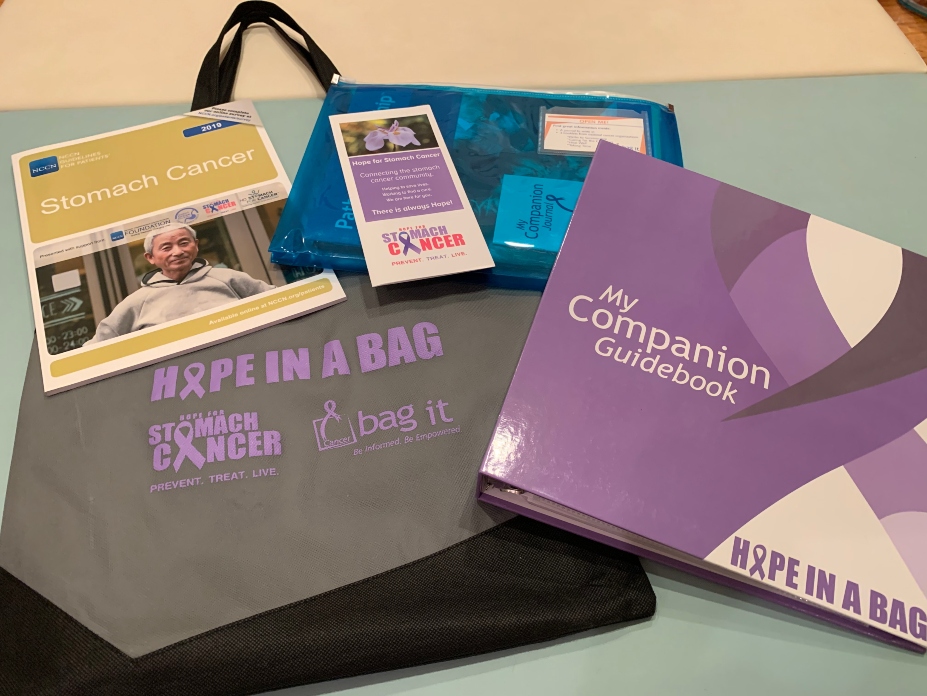 My Companion Guidebook is a resource included in the bag. 
It's a 3-ring binder divided into six important sections for ease of information access when you need it.
My Personal Details – helps you keep track of your personal information, family history, any medications you are on.
Calendars And Logs – helps you keep track of appointments, monthly and annual calendars as well as activities that you want to journal.  Additionally, it provides a centralized location for logging appointments, organizing questions, and recording outcomes.
My Test Results – reinforces your need and helps you track your own medical records.  Including reports and lab results from scans, exams, and x-rays.
From My Health Care Team – provides a place to store all the information you receive about your diagnosis, treatment plan, potential side effects, and care management.  Also, keep all your health care team contact info here.
Resources – Hope In A Bag includes several booklets from reliable cancer organizations.  And these will help you better cope with your recent cancer diagnosis.
Everything Else – This is an extra section for journaling or anything else you want to keep under close observation.
Hope In A Bag is an entirely free resource provided by Hope For Stomach Cancer and our partners including Bag-It.
It is available throughout the United States.  And shipping is free as well.  There's no charge to patients at all.  
However, at this time, we can only ship it within the US.  
Click HERE to order Hope In A Bag.  And please note that you will be taken to our partner's website Bag-It.
Hope In A Bag Partnerships