Hope For Stomach Cancer recently sat down with Alicia Aguirre, a dedicated caregiver and mother of two who helped her husband Mark Aguirre from the time of his diagnosis in 2018 until his passing in 2020. She recounts their story of receiving his surprising diagnosis, the whirlwind of treatment that followed, and her unique perspective as a spouse of someone battling gastric cancer. 
Q: Thanks for being willing to share your story with us today, Alicia. I'm looking forward to hearing the unique perspective you have to offer as a caregiver. Can you please start with how Mark received his gastric cancer diagnosis?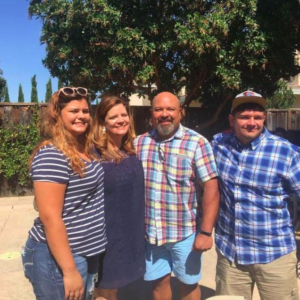 A: In 2018, Mark and I had been married for nearly 22 years. He was 51 years old and had been working in Guatemala as an ICE officer. As part of his job, he had regular health screenings. Testing prior to his deployment in 2014 didn't reveal anything unusual. However, when he returned home to Vancouver, WA from working abroad, he said he was feeling unwell and needed to see a doctor. 
Mark wasn't especially open about sharing his discomfort, but we learned that he was struggling with burning pains in his stomach. He received an initial diagnosis of gastritris in April 2018 and was treated with three rounds of antibiotics. Upon meeting with a second doctor, Mark was advised to meet with a GI specialist. The provider's schedule was full, so we made the appointment for early July. 
The GI specialist informed Mark that he needed a routine colonoscopy/endoscopy, so we scheduled that procedure for the earliest availability – August 7th, 2018. 
As the date approached, Mark struggled with stomach pains and general discomfort. We tried a variety of treatments, including TUMs and stomach coating medications. Nothing helped. 
Receiving his gastric cancer diagnosis 
Mark went into his endoscopy/colonoscopy appointment convinced that he had colon cancer due to his family history. Therefore, he was mentally ready for a cancer diagnosis. The colonoscopy was honestly a horrible experience. I didn't have the chance to visit with Mark before he went in for his procedure, which upset me because he was clearly nervous. All I had was a number that I could use to track him in their system. 
Shockingly, the doctor gave Mark the diagnosis of gastric cancer that same day. But we didn't have any specifics yet. They did not know the stage, yet we knew that the cancer was advanced since he had two tumors in his stomach and one in his liver. We were given the option to undergo treatments at two local oncology treatments. We selected the private clinic recommendation. 
I immediately had to leave for work training after Mark received the news. As you can imagine, it was devastating. Mark came from a Mexican family that had a long tradition of home-cooked meals. He loved eating and drinking good food. Now, facing gastric cancer and the pain that it brings, eating was tiresome, painful, and the enjoyment was gone. Despite this, Mark made the best of the situation as we awaited the start of his treatments. 
Q: Can you walk me through his treatment plan and explain what your shared experience was like? 
A: Truthfully, treatment was arduous and disappointing in many ways. When Mark went in for his first session, we discovered that he couldn't even get his treatment that day because he didn't have his port yet – so his first treatment was with a pic line – a day later. We were both nervous; the chemicals were extremely harsh. Nurses in the clinic wore full PPE to avoid coming into contact with it. 
The constant delays combined with Mark's pain and the lack of answers led us to question the professionalism of the clinic. The doctor gave Mark opioids to deal with the pain, which caused a number of GI issues. We weren't prepared for the hardcore side effects. He was frequently constipated and struggled to eat. We tried modified diets, that included eggs, plant-based foods, and nothing harsh or acidic. However, all the cancer-specific diets that we attempted to follow weren't a great fit for gastric cancer. It was a challenge for Mark to consume enough calories. 
Meeting the oncologist 
Finally, we met with an oncologist during the first week of September 2018. This was an important appointment. We knew we'd be learning more about Mark's cancer and his prognosis. 
Unfortunately, this was also an extremely disappointing meeting. The doctor informed us that Mark's cancer was metastatic; it had spread to his liver and lymph nodes. Further, he told us that Mark was terminal, and would likely live for 1.5 to 2 more years. Our hearts ached as we thought of our son and daughter, who were both young adults at this time. To conclude the appointment, the doctor handed us an outdated pamphlet on gastric cancer.  
Naturally, we were horrified by the news and taken aback by the doctor's cold delivery. I knew we needed a second opinion. So, we traveled to Seattle to see a different physician. He confirmed that Mark had advanced gastric cancer. But he also spoke for 13 minutes straight (yes, I timed him!) about his diagnosis. This doctor told Mark that he should be close to home for treatment and expressed shock that our primary oncologist had been dismissive. 
Despite that positive experience, it was imperative to nurture our relationship with the primary oncologist. We would be working closely with him to help Mark get better. 
Back home, Mark's gastric cancer treatments commenced. He completed seven cycles of Folfox 5FU. After being at the treatment center, he'd come home with his pump for 46-hour cycles of continuous drugs. 
I recall how Mark kept his diagnosis a secret from most of the people in his life. Outwardly, he was changing – he dropped from 220 lbs to 180 quite quickly. When faced with the thought of having to use a feeding tube to maintain weight, he ate in earnest to avoid it. 
The Clinical Trial 
Mark's treatments tapered off as we headed into the 2018 holiday season. I was still his primary caregiver, and I worked hard to ensure that he was eating well and watching out for himself. Around this time, he qualified for a clinical trial for the drugs Opdivo (nivolumab) and Yervoy (ipilimumab). Researchers were testing these immunotherapies on various cancer patients, and Mark qualified because he had solid tumors. 
As the trial got underway in January 2019, it occurred to us that no one had approached Mark's treatment from a genomic standpoint. Instead of studying his biomarkers, providers gave him standardized treatments that may or may not have been effective for his situation. Now, we understand that analyzing a person's biomarkers are essential for proper treatment. 
The Opdivo-Yervoy combination was a game-changer for Mark. His biomarkers improved drastically once the trial began. Futher, the tumor in his stomach literally disappeared. 
However, we learned a lesson that many cancer patients are familiar with: every treatment has its upsides and downsides. 
Clinical Trial Challenges
By February, Mark was dealing with substantial amounts of blood loss. At one point, he collapsed, and testing revealed that his hemoglobin level had dropped to an astounding 5.1. The hospital staff was shocked that he was standing upright at such a low level. This frightening incident marked the first of eight admissions Mark had for blood transfusions in early 2019. 
The transfusions brought new problems. Mark was already low on blood, yet hospital staff continued drawing blood to run tests. He had strange side effects from the transfusions, and his body frequently rejected the blood altogether. Given Mark's fragile state, doctors were advising us to get our affairs in order. I recall feeling frustrated that his oncologist did not visit or check in during his transfusions. 
Regardless of the challenges, we felt the trial was worthwhile since the drugs obliterated the tumor in his stomach. And incredibly, Mark did stabilize following this period. In late spring of 2019, he was well enough to travel. We visited family and simply enjoyed one another's company. 
We also traveled to Los Angeles for StoCan's second annual symposium, which was extremely enlightening. Drs. Klempner and Wu presented useful information, and I came back prepared to ask his oncologist about the information I'd learned. 
In Remission 
Around this time, the oncologist let us know – with some trepidation – that Mark's gastric cancer appeared to be in remission. The doctor didn't want to speak too quickly, but his outlook was positive. We were thrilled!
The doctor put Mark on prednisone and Keytruda (pembrolizumab) once he had tapered off the prednisone. For a time, we remained hopeful. But it quickly became apparent that the medications weren't effective. Our hopes waned with the news that the tumors were growing again.
Faced with this upsetting reality, I doubled down on getting answers from Mark's oncologist. Even though we did not appreciate his bedside manner, we figured that he'd at least be knowledgeable enough to answer the questions we had after the symposium. 
Sadly, the doctor disappointed us yet again. He threw up his hands and stated that he'd give us a referral when we began asking tough questions. 
Gastric Cancer Care in Portland 
In 2020, Mark saw a doctor in Portland who quickly put him in palliative care. He was on new medications, and new medications meant new complications. His cancer was officially back. Further, his gallbladder was severely compromised at this point. 
The new oncologist referred Mark to a GI for a gallbladder stent placement. Following the surgery, Mark rapidly became sick. In a flurry of testing and evaluations, we learned that deadly bacteria had attached itself to Mark's port. Mark went into septic shock as a result. 
Mark was gone just a week later. Shocked, hurt, and heartbroken, our family began the painful grieving process. 
Q: I'm so sorry for your loss. You and Mark experienced so many ups and downs, and you were always by his side. Can you tell us a bit about your feelings and experience as a gastric cancer caregiver? 
A: As a caregiver for a spouse with gastric cancer, my emotions were all over the place. I spoke with a therapist consistently, especially as he approached the end of his life. Anticipatory grief was a frequent struggle for me as I knew that I would likely lose him to this awful disease. 
It was terrible at times, and I felt that I didn't have much support. Further, I experienced an immense amount of frustration while dealing with Mark's oncologist and his scheduler. I frequently felt that people did not appreciate the gravity of his diagnosis. Additionally, I felt that stage four patients and their families needed special handling, and we did not receive that. 
Q: Thank you so much for sharing this incredible story with us. Can you please tell me what your hope is after going through this experience alongside Mark? 
A: I want people to know that gastric cancer is not an old man's disease. In fact, 400 kids under the age of 18 will get gastric cancer and die annually. I especially want to spread awareness of the early signs of this disease among primary physicians and regular GI doctors. After all, these are the first responders, and they need to be equipped with the knowledge to help people who are in the early stages of this disease. 
Finally, I'm excited to say that I'm starting an annual charity golf tournament in our hometown of Napa, CA to benefit Hope for Stomach Cancer. I'm eager to give back to these communities that have helped me, Mark, and my family, so much.